Refinance Your Car and Save Money
Refinancing could translate to immediate savings every month or long term over the life of your auto loan. Pre-qualify to see real numbers without hurting your credit score.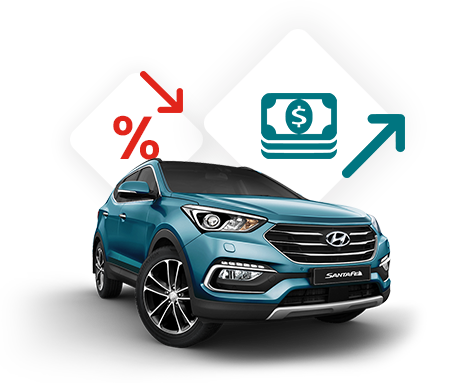 Things may have changed since you bought your car, which means you might be in a better position to lower your car payment or your annual percentage rate (APR)—or both.
That could translate to immediate savings every month or long term over the life of your auto loan.
Auto refinancing is a good way to reassess the length of your loan term. We might be able to help you shorten it, so you can pay your car off faster.
Auto refinancing could help lower your APR. And that could lead to paying off your car faster, so you can get that blissful feeling of freedom from debt!
1. Enter Your Vehicle
Tell us about your vehicle to see what you could save. There's no commitment and no impact to your credit score.
2. Sit Back and Relax
Our agents will confirm your application and will call back for any details necessary to complete the process.
3. Enjoy You Savings
We'll take care of paying off your old auto loan and help you transfer your title once you're approved.
Why Refinance

Your Car Loan?
Keep Your Vehicle
We make it possible to secure better financing terms on your current vehicle loan without the hassle of getting a new vehicle. We're here to help identify and clarify your financing options and offer our depth of knowledge & guidance every step of the way.
More Options
Canada Auto guarantees our clients will thoroughly understand all their vehicle financing options to help you make every decision with the utmost confidence.
Less Negative Equity
We will provide you with the option of keeping your current vehicle while you continue on the road to be rewarded with a better rate. This avoids any negative equity to be consolidated into a new lower interest auto loan creating a "no-win" financial situation.
Lower Interest Rate
Our area of focus and expertise is to help refinance your current high interest auto loan into a lower interest loan; this will in turn help lower monthly payments and overall vehicle costs.
Safe and Discrete
Canada Auto's new way to Re-finance your current auto loan is so safe, secure and discreet that you are able to do right from your home, and best of all, you get to keep the vehicle you love and trust!
Simple and Easy
Canada Auto provides a very simple non-complicated process to ensure practical financing that is available to suit everyone's needs. We pride ourselves on being dedicated to building long-term relationships with all of our clients.
Get a
refinancing rate

for your vehicle today.